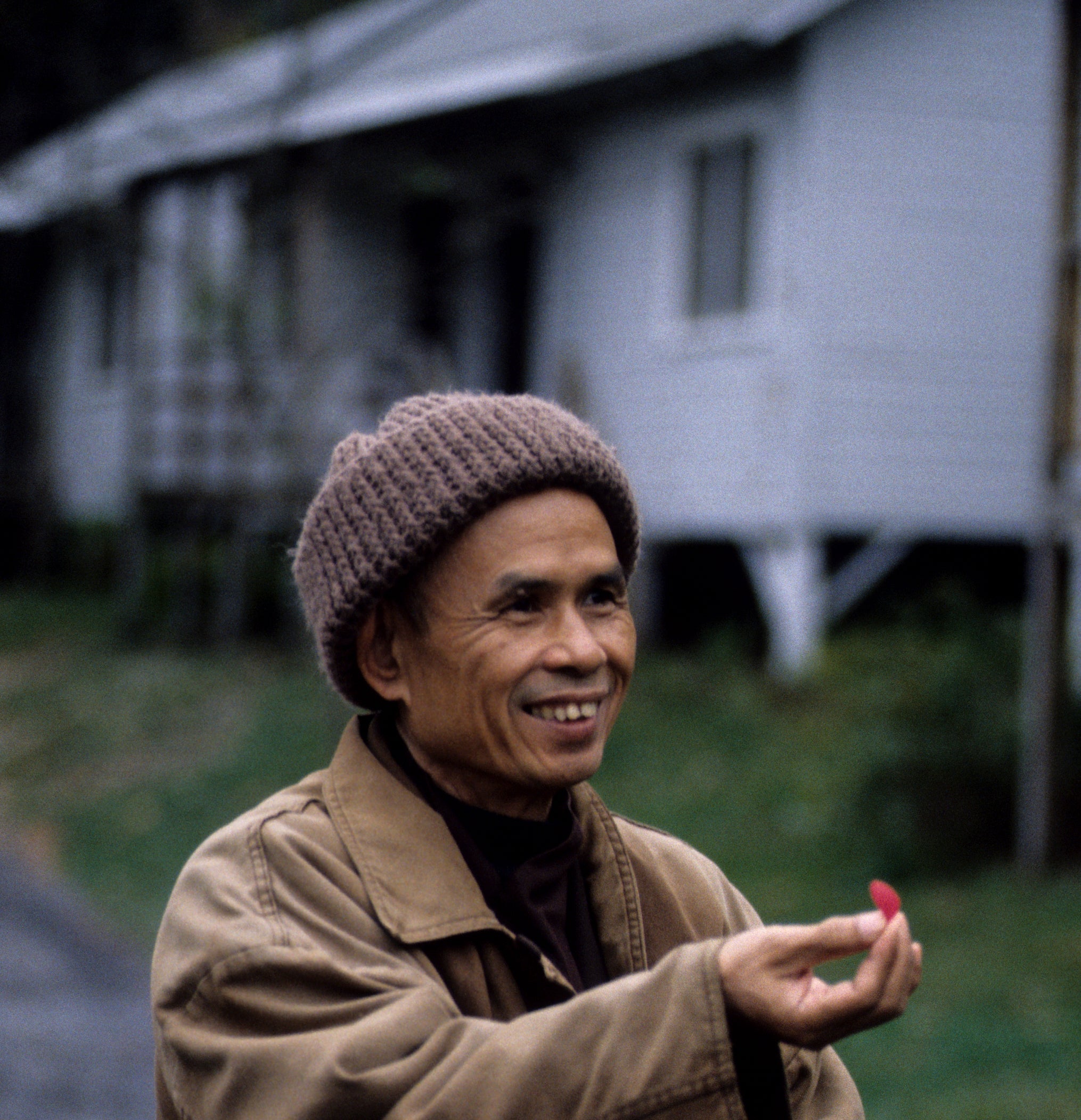 Our namesake
Thich Nhat Hanh was a Zen master, a peace activist, a teacher, and a driving force behind the introduction of mindfulness to the Western world.
We are proud to have our Center named for this soft-spoken Buddhist monk, who devoted his long life to refining the practice of mindfulness and sharing those insights with the world. Thich Nhat Hanh teaches us to live fully in the here and now, to recognize our connections with those around us, and to act with purpose to preserve and protect our planet.
We hope our center will spread those values around the world through the study and teaching of mindfulness.
A tireless activist
Born in Vietnam in 1926, Thich Nhat Hanh entered a Buddhist monastery at age 16. A life of contemplation suited him, yet in viewing the suffering in the world, he also felt compelled to speak up, mobilize, and actively work toward a better future. In so doing, he founded the "engaged Buddhism" movement.
Throughout the Vietnam War, Thich Nhat Hanh traveled tirelessly to spread the principles of nonviolence, compassion, and solidarity, working alongside activists such as Dr. Martin Luther King, Jr., who nominated the Buddhist monk for a Nobel Prize at the height of the war. In his home country, meanwhile, Thich Nhat Hanh put his principles into action by founding an all-volunteer relief organization, known as the School of Youth and Social Service. Because of his activism, Thich Nhat Hanh was exiled from Vietnam.
A teacher in exile
Forced to leave his home country, Thich Nhat Hanh traveled, taught, and wrote volumes about his explorations into mindfulness.
He codified the most important principles of this approach to daily life in The Miracle of Mindfulness, published in 1975. That same year, Thich Nhat Hanh established a community dedicated to mindfulness near Paris. A few years later, he moved it to a larger site in rural southern France. He would go on to establish ten additional practice centers around the world, including three in the United States: Blue Cliff Monastery in New York, Magnolia Grove Monastery in Mississippi, and Deer Park Monastery in California.
This humble monastery, Plum Village, now draws tens of thousands of visitors from around the world. They come to learn from the 200 resident monastics. To practice mindful breathing, mindful walking, mindful eating. And to gain a sense of community—to find fellow travelers on the path to mindful living.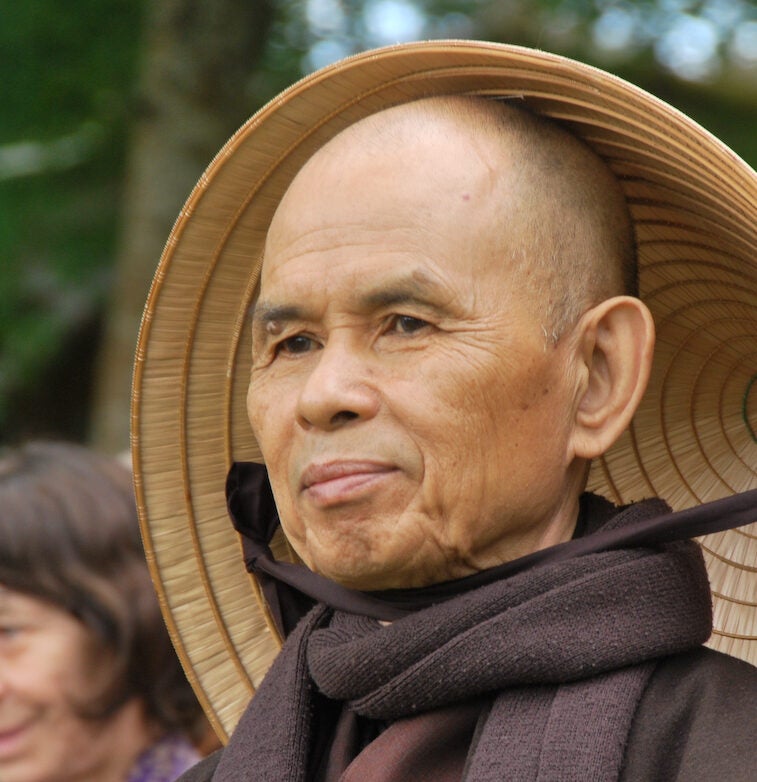 "The present moment is filled with joy and happiness. If you are attentive, you will see it."
Thich Nhat Hanh
"We have to walk in a way that we only print peace and serenity on the Earth. Walk as if you are kissing the Earth with your feet."
Thich Nhat Hanh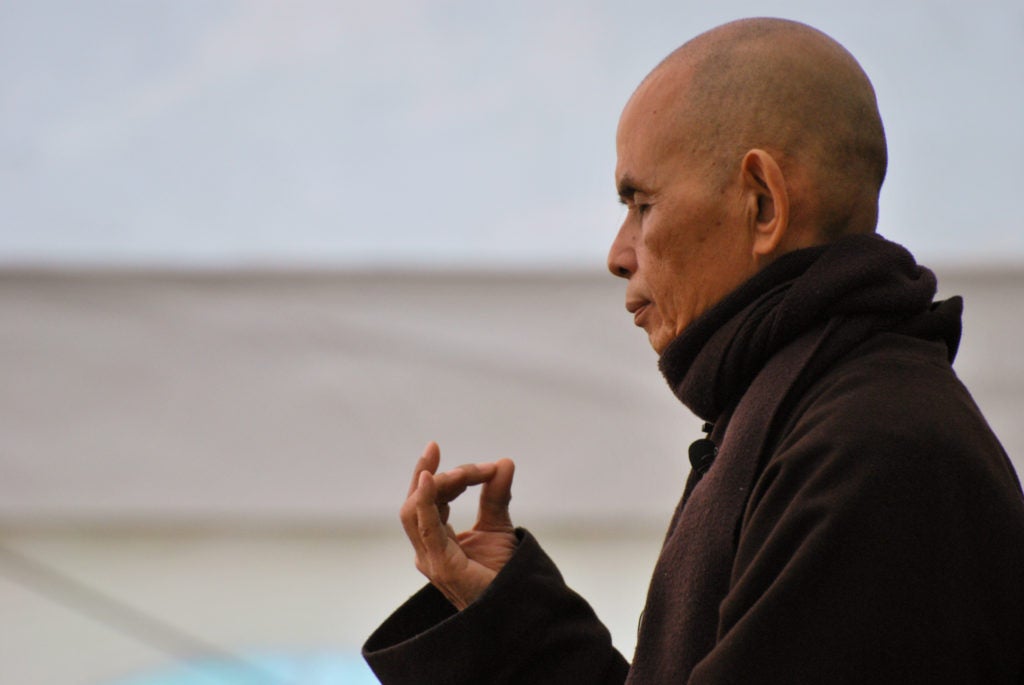 An inspiration to millions
Over the decades, Thich Nhat Hanh has written dozens of books, shared his teachings through beautiful calligraphy, and opened monasteries around the world. Often called Thay, which means "teacher" in Vietnamese, he has introduced mindfulness to corporations such as Google and institutions such as The World Bank. He has continued to press the case for peace and opportunity and over time, added increasingly urgent calls for action to combat climate change. Thich Nhat Hanh has also been a strong advocate for a vegan or vegetarian lifestyle, in keeping with his call to protect and preserve our environment.
After decades of exile, Thich Nhat Hanh returned to Vietnam in 2018. He passed away peacefully on Jan. 22, 2022. He remains an inspiration to millions around the world.
Read more about Thich Nhat Hanh's life on the Plum Village website.